Activities & Events
Sorry, no events and activities found in this park
View the calendar
to see what's happening in other parks.
If you are running an activity or event you can post it on the website.
Live Projects
There are currently no live projects for
Queens Park, Glasgow
View other live project funds
If your organisation wishes to propose a project for Queens Park, Glasgow complete the Project Proposal Form
Park information
Queen's Park has a uniquely rich combination of historical, cultural and environmental heritage and outstanding landscape and conservation values.
It was created in the mid 19th century, designed by the renowned landscape architect Sir Joseph Paxton with design modifications by city architect, John Carrick. Additions to the park include refurbished play area and bandstand within the historical setting.
The park boasts an historic glasshouse, large pond and Scottish poetry rose garden. From the parks main view point there are commanding views over the city and beyond.
Friends of Queens Park – Website | Facebook Page | Contact Email
Facilities
Café
Car park
Floral display
Historical features
Orienteering
Pavilion
Seating
Skateboard and BMX park
Tennis Courts
Views
Walks
Wheelchair access
Wildflower meadows
Wildlife viewing
Woodland
Location
520 Langside Road, Glasgow G42 8QR
Stories
what a delight
Queen's Park in the dark is a bit of a scare but in the flare of the light what a delight!
Queens Park tennis courts to get £250,000 makeover
The city council and Glasgow Life are to install five new synthetic grass tennis courts and refurbish the adjacent ageing pavilion in Queens's Park at a cost of £250,000. The redevelopment of the tennis courts follows similar investment at Drumchapel P …
how i use queens park
Queens Park It's my closest and I can have a nosey into the allotments, look over the city, go for a cup of tea in the hot house with friends and I know Daubenton's fly over the boat pond at night!
More Information
Click here to see the new ParkLife Newsletter which provides information, interesting facts, and details of a wide range of fantastic projects going on across our Parks and Open Spaces in Glasgow. www.glasgow.gov.uk/parklife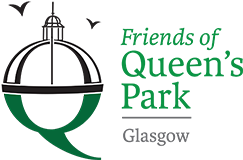 This is a Fields In Trust protected site

If you would like an organisation to be listed here please fill out the Keep In Touch form and let us know!